We are truly blessed to be able to know and serve our customers daily. Our customers inspire us!
We have fabulous gifts for your home, as well as personal gifts for that special person in your family. Men, women and children will find something unique in our store.
D&D Gifts is a place where our community is important to us. From outreach in our community, to different lines that we offer; such as, Bridgewater Candles( buy a jar and feed a child a day), to the fight against breast cancer, to providing support for our troops with Survivor Joe bracelets ~ D&D is a place to shop for gifts that keep giving.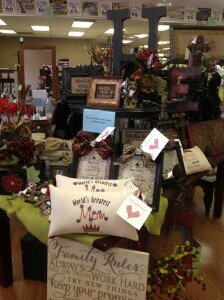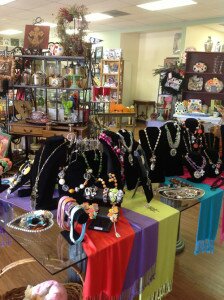 We carry Happy Everything pottery, Clic Eyewear, Bridgewater candles, Crow Canyon enamelware, Niven Morgan Bath products, Survivor Joe bracelets, gourmet products, decorative pillows, frames and accessories, birthday gifts, such as, purses, scarves, jewelry, crosses, sports cards and memorabilia

.
Holy cow! Men you will have to check out our Man Cave area! Sports cards and memorabilia galore! You will find Topps, Upper Deck and Panini Trading Cards sold individually, by the pack or hobby box. You will even be intrigued by our collection of rare coins.
Come visit with us soon!
LOCATION
1301 Justin Rd Ste 212
Lewisville, TX 75077
tel: 972.317.5599
fax: (123)123-1234
HOURS
Monday – Friday
9:00 A.M. to 7:00 P.M.
Saturday
9:00 A.M. to 1:oo P.M.
Closed Sundays